Looking for a condo in the Downtown Toronto area in the lower prices ranges, e.g., up to $400,000 can seem like a far-fetched endeavor, but a number of listings prove that not all condos in the Downtown core are multi-million dollar properties. Some may associate more affordable Downtown condos with old and neglected buildings and condos in poor condition, but that is not always the case. You would be surprised what 350k to $400k condos have to offer. Some of them include high-end amenities resembling some of the most expensive condos. They have roof gardens, a concierge, state of the art gyms, saunas, pools, whirlpools, etc., but they also have certain downsides.
The Toronto condo market is in general very competitive and affordable condos attract even more buyers who are as motivated as you are to have their offer accepted. Such a climate often leads to bidding wars pushing such condos into a higher price range. Since they are small in size, they are often bought as investment properties and turned into rentals to generate extra income. The cheapest condos are typically studio apartments (400-500 feet square on average) and are meant for one or two people. Typically known for lower maintenance fees and lower bills, it's not a surprise that buyers and investors bring their A game when they spot an under $400k listing.
What Do Condos Up To $400,000 Offer?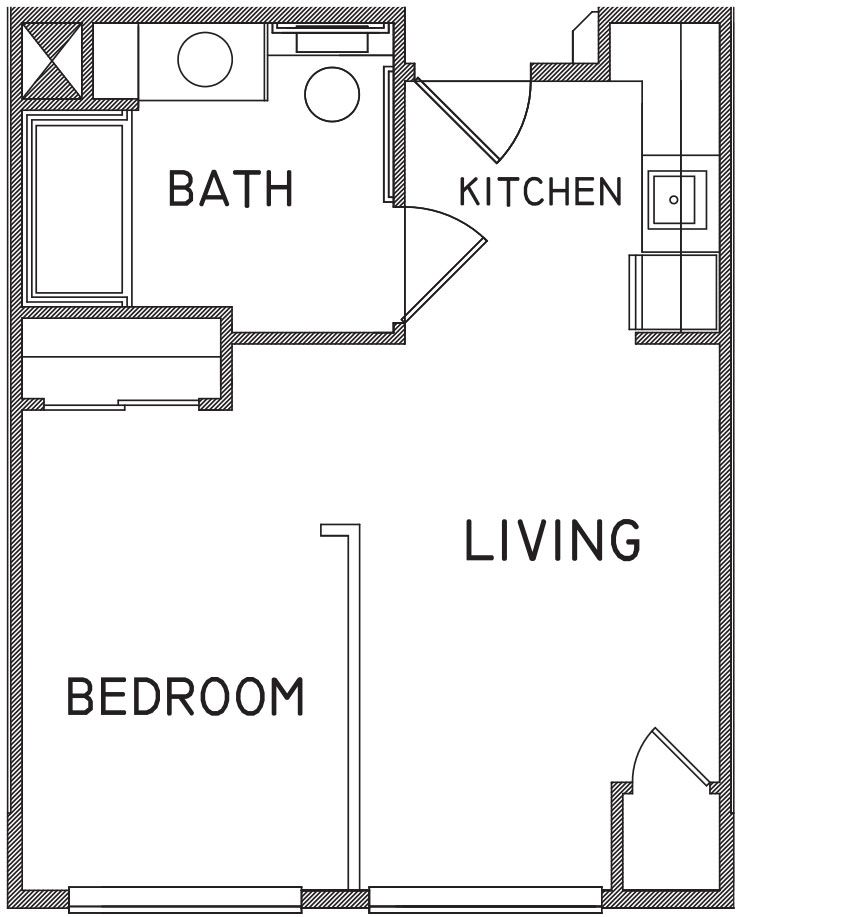 Downtown Toronto condos in the $350k-$400k price range are actually very functional, found in top locations and mostly in decent condition. With a little bit of digging, you can find a few of them in newer buildings as well. In Fort York, for example, a new construction condo under $400,000 will be available as of next year. A 500 square feet condo is well-equipped featuring marble and laminate flooring, composite stone counters, and so much more. Amenity-wise, it resembles high-end buildings with the most exquisite amenities featuring a wellness center, a gym, hot tubs, steam room, café lounge with Wi-Fi, barbecue, etc.
Cheap condos can also be found in renowned buildings, e.g., an affordable condo has been recently listed in the landmark building of One City Hall. Its 400 sq ft make it ideal for young professionals or empty nesters who enjoy the Downtown life.
Sometimes we also see listings for condo units as part of Hotel residences for $400,000 or less which can seem very appealing at first. Nevertheless, if your income is rather modest, the high hotel residence fees can be very discouraging and cost you far more in the long run. Another setback is that hotel suites are technically classified as commercial properties which makes it extremely hard to obtain a mortgage. That's why cash offers are more common when targeting this kind of properties.
If you have seen stunning one-bedrooms condo units in Toronto being listed for under $400,000, don't get too excited as it might be just a marketing strategy. Don't take the list price always for granted as it's often used for triggering bidding wars. They usually end up selling for 10%-15% more.
How To Purchase A Cheap Toronto Condo?
To find your dream home within a $400k budget, you will have to be quick to respond. Find an active agent who will send you the target listings before they are uploaded to MLS, someone who will schedule home showings at the earliest convenience and negotiate on your behalf. Such an approach will definitely make you more competitive and stand out from the masses.
To further increase your odds, have your mortgage preapproval ready before you start touring homes. Sellers prefer buyers who already know in advance that they can pay for the home. Also, have a lawyer review the status certificate of the building before offer date as you'll need to know how financially stable the building is and if it pays off to invest.
Hopefully, these steps and a little bit of luck will help you secure a great Toronto condo in the affordable price range. For any further information on condos, listings and the Downtown area, call me or go to www.sellingtorontoccondos.com.